Who We Are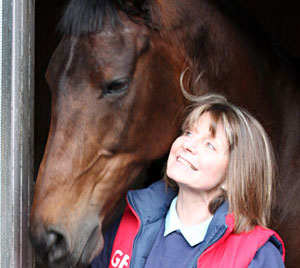 A Business Built Upon An Equestrian Passion
Golly Galoshes is the creation of Jean Hammond, a former high-flying executive working for a huge US finance corporation, who decided to swap the city for the countryside and concentrate fully on developing the product, which we have now come to recognise as Golly Galoshes.
A successful international brand, Golly Galoshes are worn by riders across all disciplines and levels from top eventers through to happy hackers and like all good ideas, it all started at the kitchen table, as Jean explains:
"I have ridden all my life and even competed internationally in both eventing and endurance and it was an endurance horse that set Golly Galoshes on the road! The horse had sores on his legs, due to grit and wet getting up underneath his boots, which meant that we had to find a way of protecting his legs, so I came up with this idea of cutting up an old raincoat and designing special gaiters to be worn over his boots. We tried all sorts of things from polythene and duck tape ! Through trial and error, I came up with a workable design and after trailing it on a number of horses and getting fantastic feedback from riders, it was my daughter who recommended that I should think about producing them commercially"
After much deliberation and an endless stream of new orders through word of mouth, Jean recognised that this was a product that truly had place in the equestrian world and in 2009 she officially launched the gaiters, which we see today and as she explains, her passion for horses is still as great as it was all those years ago:
"I really do care about the horses' welfare and comfort and it was always my mission to create a product that not only offered the ultimate in quality and practicality from a horse owners' point of view, but one which never ever compromised horses' comfort. Even today, my gaiters are still hand checked for quality control and manufactured here in the UK. I love hearing back from customers, be they are everyday horse owners, professional riders and even vets who have used my gaiters and listening to their stories. As a passionate equestrian myself, nothing gives me more pleasure that getting feedback from customers and do I ever regret exchanging the boardroom for the tack room? Not a chance!"

Meet Team Golly Galoshes
About Natasha Gold medallist Para dressage rider Natasha Baker continues to wow on the international stage following her…

Victoria Bax is rapidly gaining a reputation as a talented event rider and expert in retraining ex-racehorses and…
Our Advantages
Whether you are riding in the arena, cross-country schooling, warming up before your showing class, driving on the road or hacking out, Golly Galoshes Gaiters help keep your boots and bandages in great condition and free from sand, dust, dirt, mud, debris and water!
Used by top professional riders including multi Gold medallist Para Dressage rider Natasha Baker and event rider and race-horse re-trainer Victoria Bax, through to happy hackers, Golly Galoshes Gaiters are both breathable and waterproof and feature a sturdy full zip, with a fleece lapel, secure hook and loop fastenings and an?additional 2" reflective strip as standard.
With a range of great colours available from classic Black or Navy (for those who want practical performance) through to reflective Orange and Yellow (for those who want practical combined with high visibility) Golly Galoshes Gaiters are fully machine washable, but can easily be hosed off after use and hung up to dry,  ready for your next ride!